Tips for Brushing Baby & Toddler Teeth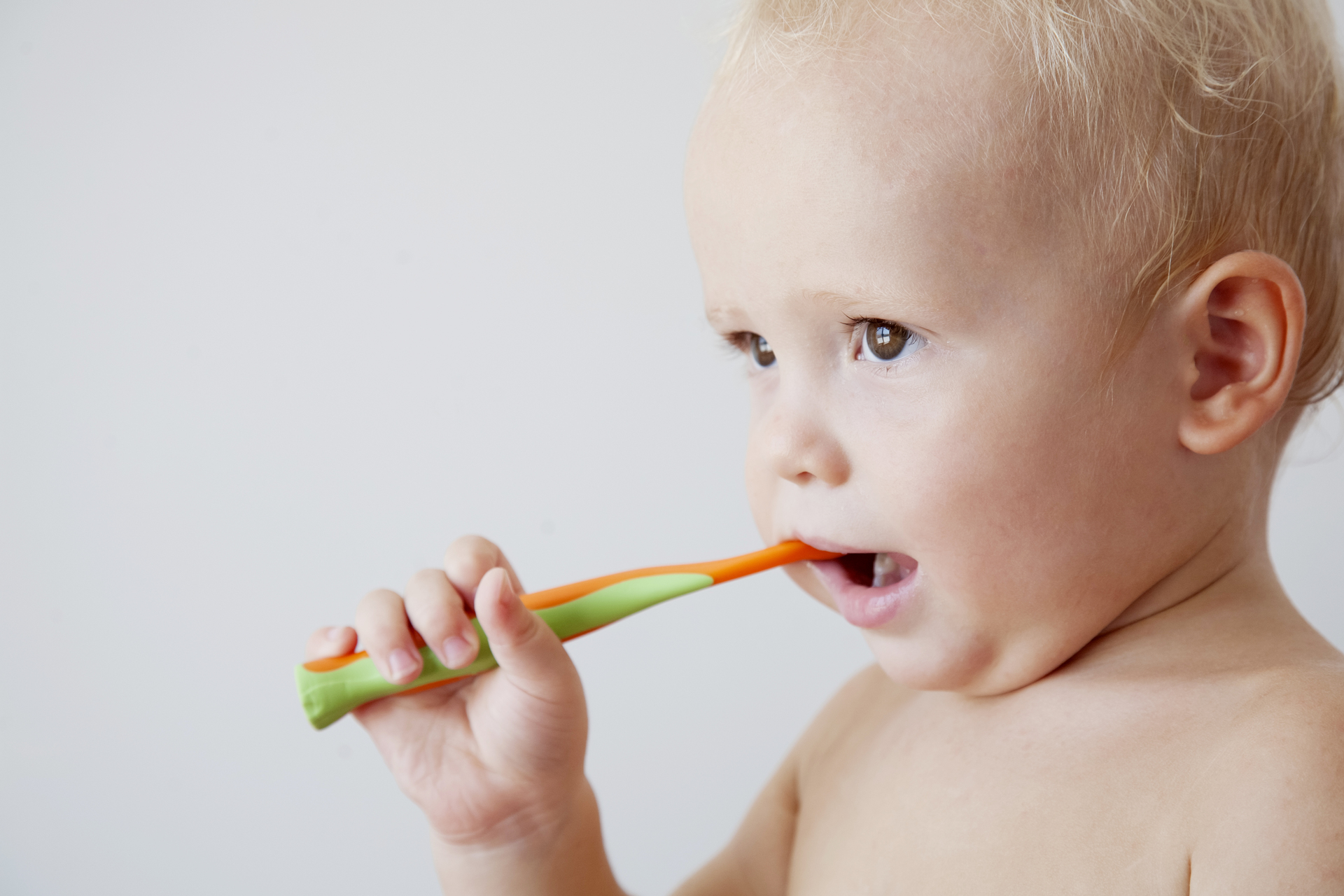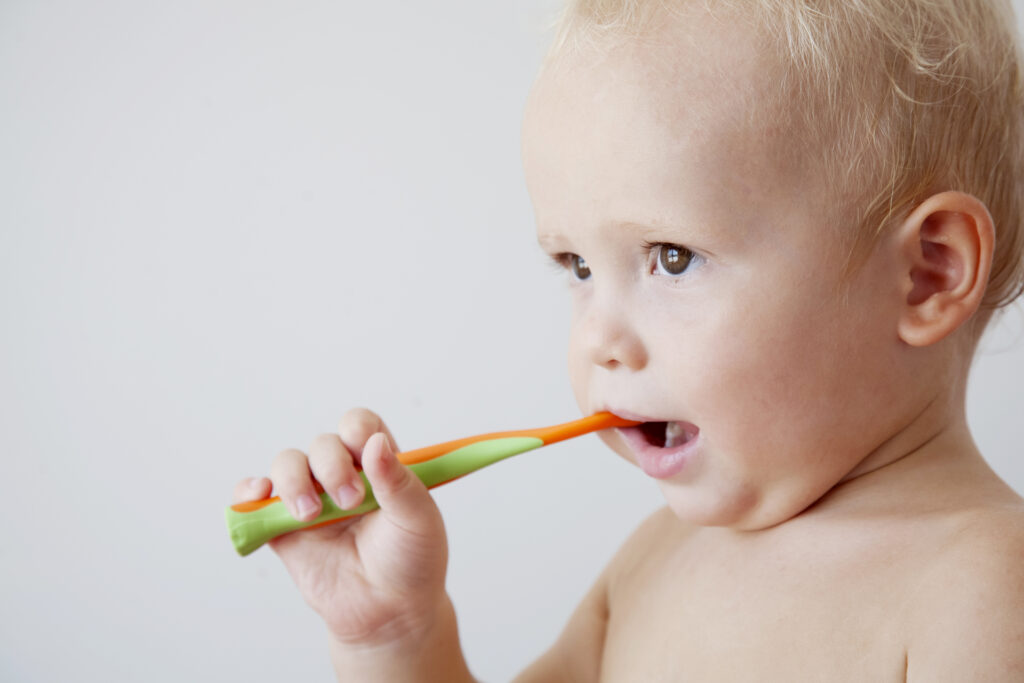 If you feel unsure about how and when to brush your baby's teeth, you are not alone! At Hurst Pediatric Dentistry, we regularly receive questions about brushing. When do you start brushing baby teeth? How do you brush baby teeth? What do you do if your child hates brushing teeth?
Parents should begin cleaning their baby's mouth much earlier than most people realize. Tooth decay can begin as soon as the very first tooth breaks through your baby's gums. It is important to make good oral care habits a part of your child's daily routine right from the start to ensure that your child's teeth and gums stay healthy.
In this article, we will discuss the following topics:
Should I Brush My Infant's Gums?
You do not need to begin brushing with a toothbrush or toothpaste until your infant's teeth begin to erupt, but you should be cleaning your baby's gums on a daily basis. The American Dental Association recommends cleaning your baby's gums regularly, beginning just a few days after birth.
Making the cleaning of your baby's gums a part of your daily routine right from the start will help ensure that, by the time your baby's first tooth comes in, you and your baby are both already accustomed to regular mouth cleanings. Furthermore, because every baby teethes a bit differently, it can sometimes be difficult for a parent to tell when their baby's first tooth is beginning to break through. Cleaning decay-causing bacteria from your baby's mouth on a daily basis by wiping the gums can act as a safeguard to help protect the tooth until it becomes obvious that the tooth has erupted and brushing is required.
How to Clean Baby's Gums
To clean your infant's gums, gently wipe the gums with a clean, damp washcloth or infant toothbrush. If your child is teething, consider refrigerating or freezing the damp washcloth for a few minutes. The cold temperature can soothe your baby's sore gums.
When Do You Start Brushing Baby Teeth?
Many parents feel unsure about when to start brushing baby teeth. A child's first tooth often erupts at around six months. Do parents need to begin brushing with a toothbrush and toothpaste that early?
The short answer is yes.
As soon as your child has a tooth, plaque can begin building up on the surface of the tooth and causing decay. As a result, the American Academy of Pediatric Dentistry recommends that you start brushing your child's teeth as soon as the very first tooth comes in.
But what if your baby won't even let you inside his or her mouth? What if your toddler runs away at the sight of a toothbrush? Is it okay to just wait until your child is a bit older and doesn't mind toothbrushing so much?
The short answer here is that you should not wait.
Brushing a young child's teeth isn't always easy, but it is essential to establish, and maintain, a good oral healthcare routine to keep your child's mouth healthy and prevent potentially serious infections. Just as you wouldn't give up on changing your baby's soiled diapers if your baby wiggled and made diaper changes difficult, you should never give up on keeping your child's mouth clean and free of disease. Read on for some tips for how to brush baby teeth and how to brush toddler teeth!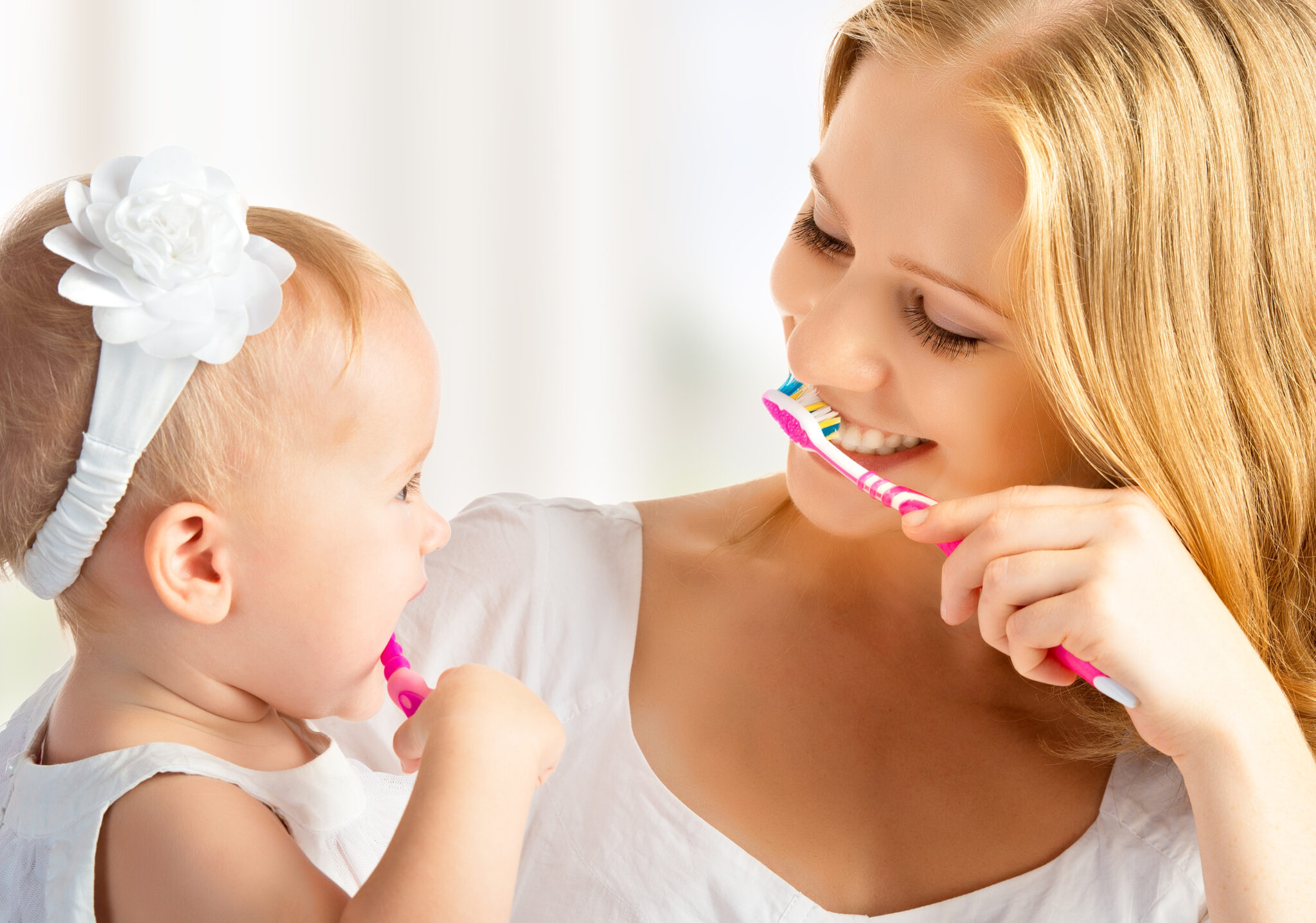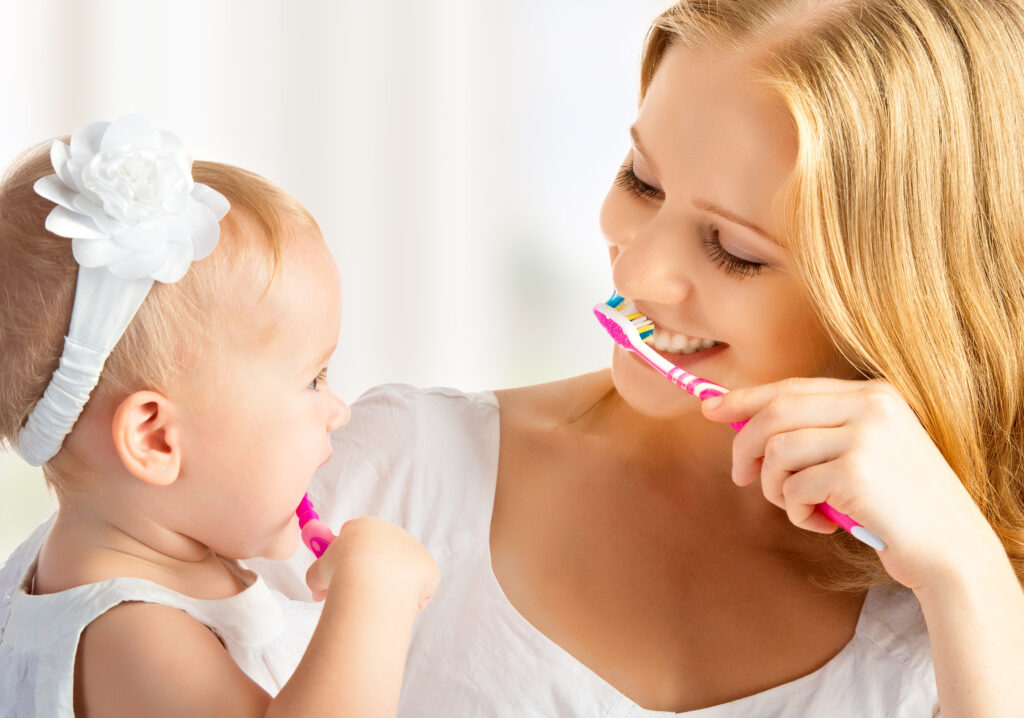 How to Brush Baby Teeth
As soon as your child's first tooth emerges, use a small-headed, soft-bristled toothbrush to brush your child's teeth. Twice a day – in the morning and before bed – apply a thin coating of toothpaste to the brush (no more than a grain-of-rice-sized amount of toothpaste), place the brush at a 45-degree angle and gently brush in a circular motion for two minutes. Once your child is three-years-old, you can increase the amount of toothpaste to a pea-sized amount.
If your child has any teeth that are touching, you should also make sure to floss between them at least once a day. (Not sure how? Check out our tips for how to floss kids' teeth.)
Parents should continue to brush their children's teeth, or assist their children's tooth brushing, until they are comfortable that their children are able to brush thoroughly on their own. The exact age will depend on the child, but typically parents should continue assisting with tooth brushing until the child is at least seven or eight.
How to Brush Baby's Teeth When They Refuse
What if you feel like you know how to brush baby teeth in theory, but when you go to try it on your infant, your baby won't even let you get the toothbrush inside his or her mouth? Fortunately, there are a few techniques that can help you provide your infant with the oral care he or she needs.
When possible, we recommend using the "knee to knee" technique for brushing an infant's teeth. This technique requires two adults and works as follows:
The two adults should sit facing each other, with their knees touching.
Lay the infant down so that the back of his or her head is resting on one adult's lap and his or her legs are on the other adult's lap. (Make sure the child is in a stable position and cannot fall.)
The adult with the infant's head on his or her lap should use one hand to gently lift the infant's lips so that the teeth are completely visible and the other hand to gently brush the infant's teeth.
The second adult should focus on comforting and/or distracting the infant, as well as gently holding the infant's hands to prevent the infant from grabbing at the toothbrush.
If a second adult is not available to help you brush your child's teeth, try placing your infant's head in your lap and then using one hand to lift your child's lips and the other to brush. (Make sure that your infant is in a stable position and cannot fall from your lap!)
If your baby's back molars have not come in yet, you can also try placing a finger between his or her back gums to help keep your child's mouth open for brushing.
How to Make Brushing Teeth Fun For Toddlers
Even if parents know how to brush toddler teeth, "fun" may not be the word they use to describe it. In fact, brushing your toddler's teeth may feel like a downright battle. If this is the case for you, try out some of the techniques below with your toddler; brushing teeth might become fun instead of a power struggle!
Take turns brushing your child's teeth, so that your child feels more involved and/or independent. You can brush your child's teeth first and then let your child practice brushing after, or you can reverse the order.
Bring in a favorite stuffed animal or doll, and let your child "brush" the toy's teeth (without toothpaste, of course) while you brush your child's teeth.
Play some music while brushing. Turn on a fun song that lasts about two minutes, and let your child know that when the song is done, it will be time to rinse. Alternatively, sing a song specifically related to tooth brushing. For example, we often sing, "Brush, brush, brush your teeth / Brush them every day / Father, mother, sister, brother / Brush them every day!" to the tune of "Row, Row, Row Your Boat".
Tell silly stories as you brush to make things fun.
Let your child pick a toothbrush that he or she loves – one in your child's favorite color or with a picture of a favorite movie character on it – to make the routine more exciting. Trying a fun flavor of toothpaste can help, too.
What Kind of Toothbrush Should I Use to Brush My Toddler's Teeth?
We have written about this topic in detail in our article on choosing the best toothbrush for your child, but below is a brief summary for your convenience:
In order to help protect your child's delicate gums and dental enamel (the protective outer coating of your child's teeth), always choose a soft-bristled toothbrush for your child.
Choose a toothbrush with an appropriately small head, so that the toothbrush can fit comfortably into your toddler's mouth. If you're unsure whether the toothbrush head is small enough, check the packaging – toothbrush manufacturers typically list age recommendations.
Both manual and electric toothbrushes are effective at cleaning toddler's teeth when used properly, so feel free to select whichever type you and your toddler like best.
U-shaped automatic toothbrushes may seem like a great solution for wiggly toddlers who refuse to let you brush their teeth, but there is not sufficient research showing that this type of toothbrush can clean your child's teeth effectively. As a result, we recommend sticking with traditional manual or electric toothbrushes for your toddler.
Schedule a Check Up with Hurst Pediatric Dentistry
Hurst Pediatric Dentistry is committed to giving your child a healthy smile. Dr. Lin is an expert at educating patients and parents together, so that parents can feel confident knowing when to start brushing baby teeth, how to brush toddler teeth, and how to make brushing toddlers' teeth fun!
Hurst Pediatric Dentistry serves the Dallas-Fort Worth metroplex, including Hurst, Euless, Bedford, North Richland Hills, Southlake, Keller and Colleyville. Call our office at (817) 510-6400 to schedule an appointment with Dr. Lin today!
This article is intended to provide general information about oral health topics. It should not be used to diagnose or treat any medical condition or as a substitute for the advice of a healthcare professional who is fully aware of and familiar with the specifics of your case. Always seek the advice of your dentist or other qualified healthcare provider with regard to any questions you may have relating to a medical condition or treatment.