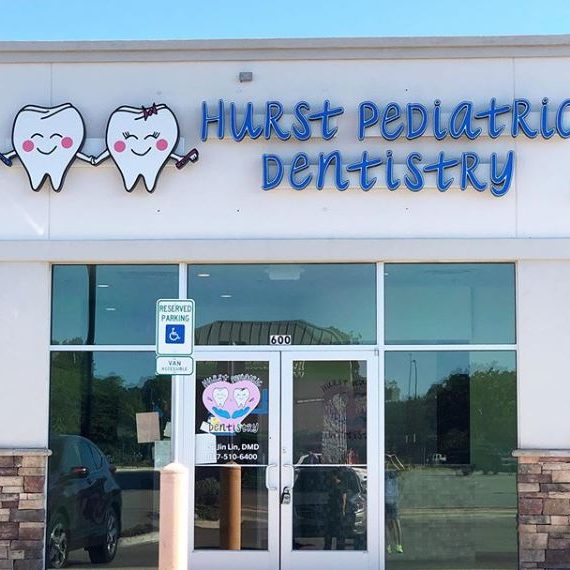 Get Directions
Get directions to our pediatric dental office in Hurst, TX. We proudly serve Hurst, Euless, Bedford, North Richland Hills, Colleyville, Keller, Fort Worth, Arlington and the surrounding area.
Early Dental Care for Infants and Toddlers
The American Academy of Pediatric Dentistry recommends that your child schedule his or her first dental exam as soon as the first tooth emerges, and no later than his or her first birthday. Developing good dental hygiene right from the start is extremely important. Your child's "baby teeth" help him or her speak clearly and chew properly, and help permanent teeth come in correctly. Dr. Lin has extensive experience working with infants and toddlers and can help you care for your child's oral health.
Prevention Focused Dental Care for Children
Because children's teeth and jaws are still developing, children's dental needs are different than those of an adult. Dr. Lin and his team have extensive knowledge of child-specific dental issues. Our prevention-focused dental care includes regular cleanings and exams; patient education on how to achieve optimal oral hygiene; cavity prevention through fluoride treatments and dental sealants; and screenings for conditions that may require early orthodontic planning.
Dental Care for Adolescents and Teens
Adolescent patients have distinct dental needs due to factors such as increased risk of cavities, gingivitis, and sports-related facial injuries; complexities related to orthodontic care; and use of tobacco and other drugs. In addition, during adolescence, children may become increasingly aware of, and self-conscious about, crooked teeth, staining, and other oral imperfections. Dr. Lin is specially trained to address the concerns of adolescent patients and to help them achieve the beautiful, healthy smiles they desire.
Dental Care for Special Needs Children
Children with special needs often have a greater incidence of tooth decay, gum disease and oral trauma. Dr. Lin has worked with children with a wide variety of special medical and dental needs, including children with rare syndromes, and can work with you to determine the best preventative dental care and treatment plans for your child.
High quality kids dentistry that you can afford.
We know how important it is for children to get the quality dental care they need. For your convenience, we accept most major PPO dental insurance plans, as well as Care Credit. Don't let finances stop your child from enjoying beautiful pearly whites and a healthy smile for years to come. Call today!