Choosing the Right Toothbrush for Your Child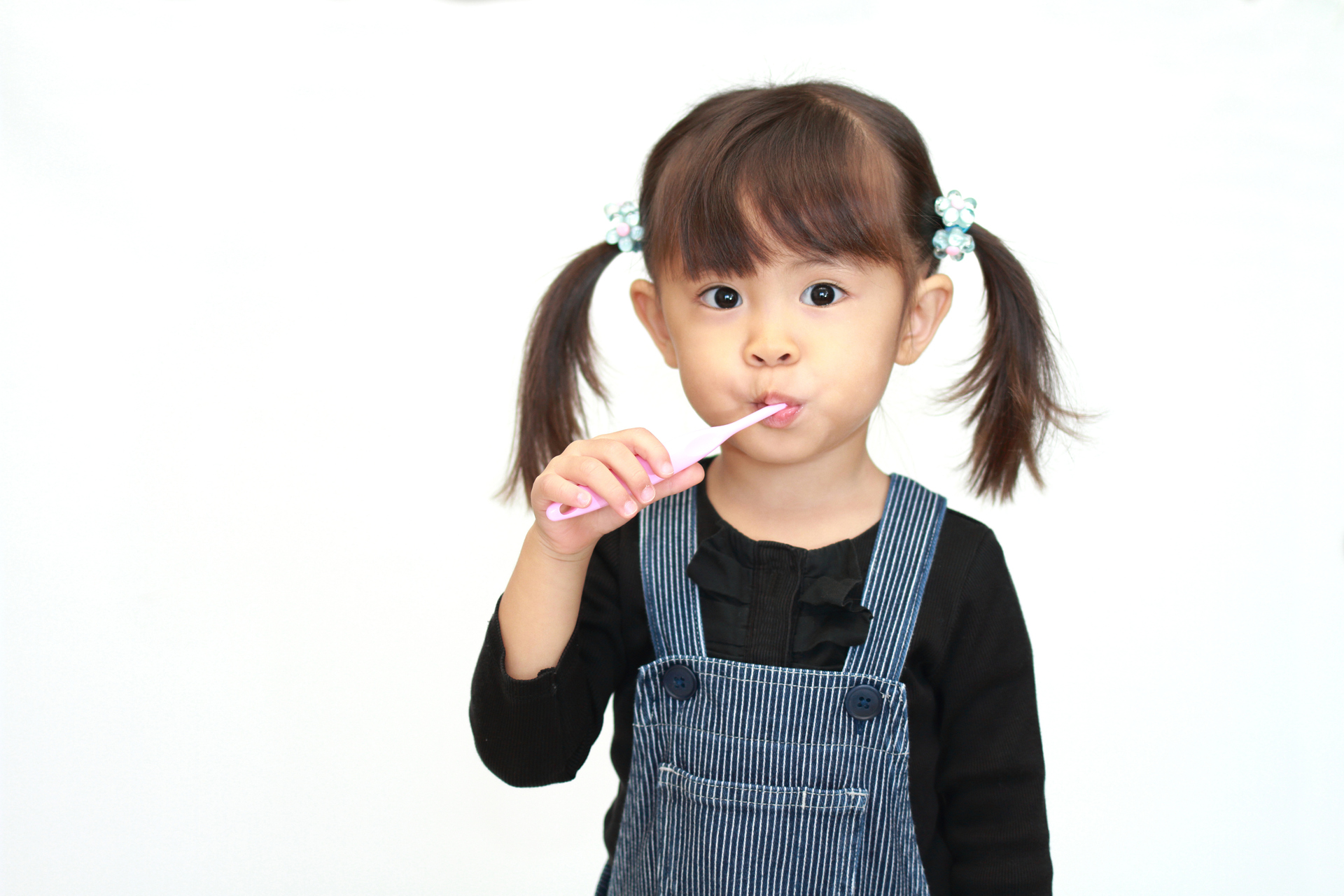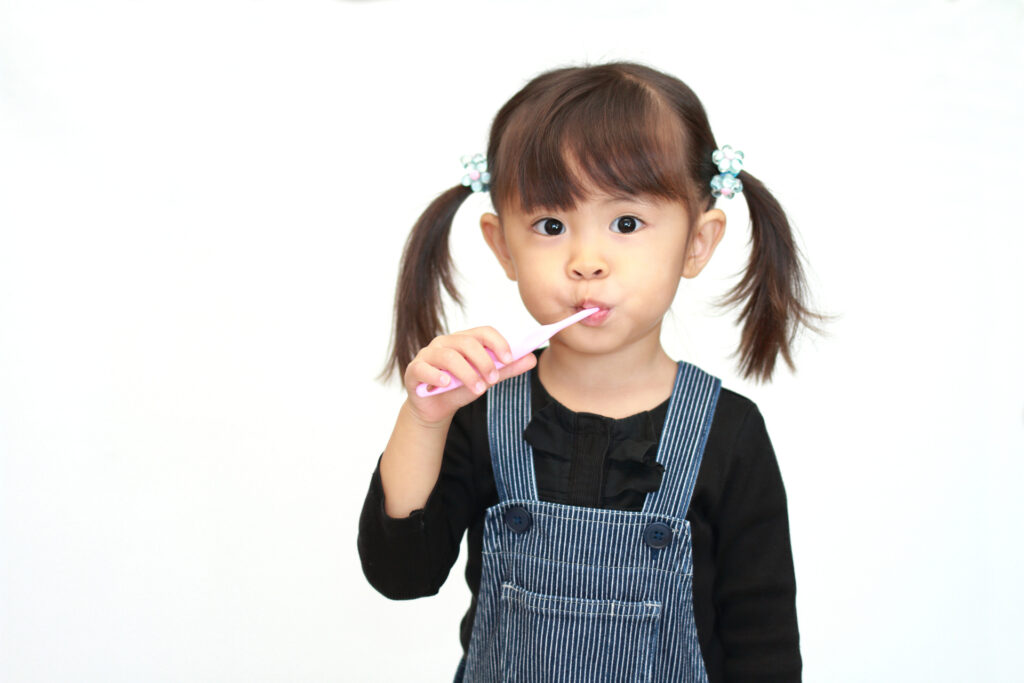 You know you need to begin brushing your baby's teeth with a toothbrush and toothpaste as soon as that very first tooth emerges, but what kind of toothbrush should you be using? Should your baby be using the same kind of toothbrush as a seven-year-old child? When should children switch over to adult toothbrushes? And do you need to buy an electric toothbrush instead of a manual?
With seemingly endless options, it can be hard to know which toothbrush to buy for your child. In this article, we will cover the following topics:
What Is the Best Toothbrush for Kids?
First and foremost, regardless of your child's age, make sure to choose a toothbrush with soft bristles. Soft bristles remove plaque effectively, but are gentler on your child's delicate gums and teeth than medium or hard bristles. Using bristles that are too hard may damage a child's gum tissue and/or cause excessive wear on the child's dental enamel (the protective outer layer of the tooth).
That said, there are countless soft-bristled toothbrushes out there. How do you know which one is right for your baby? What about your pre-teen?
When selecting a toothbrush for your child, it's important to keep the size of his or her mouth in mind. Young children have much smaller mouths than adults. To clean their teeth effectively and comfortably, you should choose a toothbrush with an age-appropriate brush head size.
Many toothbrush manufacturers provide age recommendations on the packaging to help you decide which of their toothbrushes are the right size for your child. Below are a few examples:
Examples of Toothbrushes for Babies and Toddlers
Examples of Toothbrushes for Toddlers and Children
Of course, your child does not need to use a kids' toothbrush forever. According to the American Academy of Pediatric Dentistry, your child may be ready to switch to an adult toothbrush around age 9 or 10.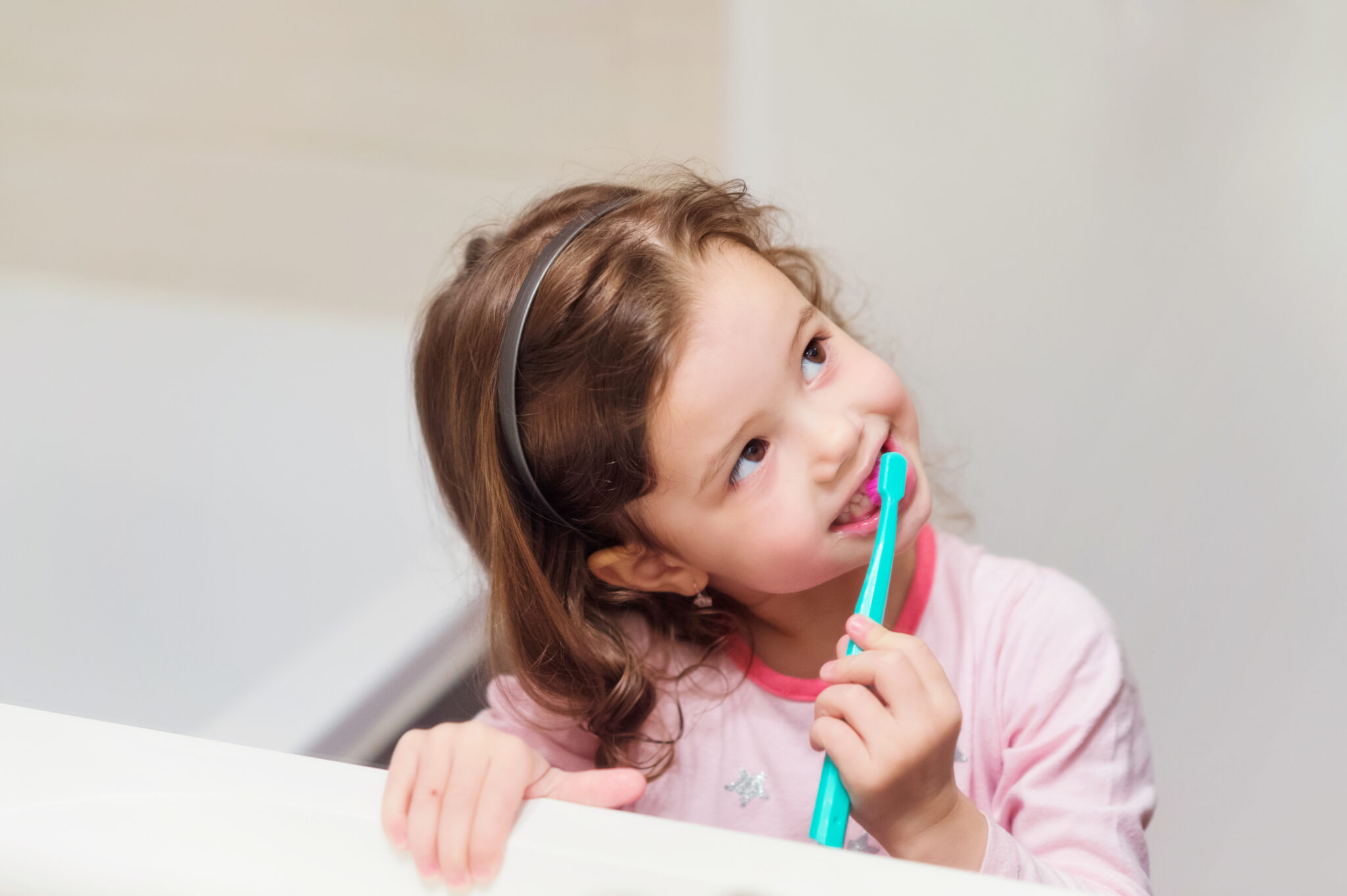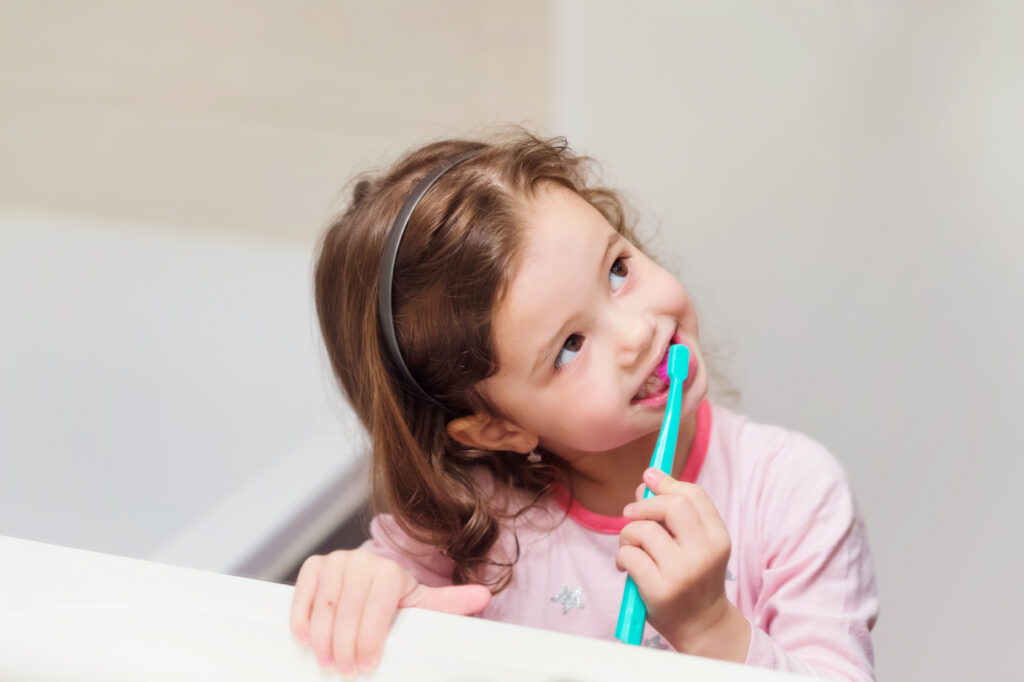 Should I Get My Child an Electric Toothbrush?
When used properly, both manual and electric toothbrushes are effective at removing plaque. Whether a manual or electric toothbrush is the best choice for your child ultimately comes down to personal preference.
Does the sound of the electric toothbrush make your toddler nervous? Use a manual toothbrush instead. Does your child seem sensitive to having the electric toothbrush touch along his or her gum line? Try a different type of electric toothbrush or switch to a manual. Does your child love the sensation of the electric toothbrush "tickling" his or her teeth? Feel free to go for an electric toothbrush.
That said, if you do decide to give your child an electric toothbrush, there are a few points to keep in mind.
First, as with manual toothbrushes, you should make sure the electric toothbrush is sized appropriately for your child's age and that it has soft bristles.
Second, keep in mind that not all electric toothbrushes are created equal in terms of their ability to remove plaque. One way to help ensure the electric toothbrush you buy is both safe and effective is to look for products with the ADA seal of acceptance. For example, at the time of this writing, the quip kids electric toothbrush is an ADA accepted sonic toothbrush with a small brush head (recommended for ages 3+) and soft bristles. Another option is to ask your child's pediatric dentist for recommendations. For example, we like the Philips Sonicare toothbrush for kids.
Third, know that giving your child an electric toothbrush is not a replacement for assisting your child with brushing. Regardless of the type of toothbrush your child uses, it is essential to help your child brush his or her teeth until you are comfortable your child can brush thoroughly and properly without assistance (usually at least until age 7 or 8).
Should I Get My Child a U-Shaped Automatic Toothbrush?
Okay, so what about u-shaped automatic toothbrushes for children? You know, the kind where your child just bites into the toothbrush and the brush promises to clean your child's teeth all by itself? Are those effective?
Anyone whose child squirms or struggles through brushing can understand the appeal of an automatic kids' toothbrush. But to keep your child's teeth clean and cavity-free, we suggest sticking with regular manual or electric toothbrushes for now.
Automatic toothbrushes are relatively new, and there has not been enough research yet to prove that they can clean teeth effectively. In fact, a few independent studies suggest that at least some automatic, u-shaped toothbrushes do not clean teeth well. Part of the problem may be that these automatic toothbrushes come in standard sizes and do not conform to the exact shape of your child's teeth and jaws. As a result, the automatic toothbrush's bristles may not be able to properly reach and clean each tooth.
If brushing your child's teeth is a challenge, try sticking with regular manual or electric toothbrushes as described above, and check out our article on how to brush your child's teeth when your child hates brushing.
Dentistry for Children in Hurst, Texas
Hurst Pediatric Dentistry's Dr. Jin Lin is a board-certified pediatric dentist who places a strong emphasis on prevention and education. To make an appointment with him, call our office today at 817-510-6400.
Hurst Pediatric Dentistry is located in Hurst, Texas, and provides dental care to children from Hurst, Euless, Bedford, North Richland Hills, Colleyville, Fort Worth, Keller, Arlington and the surrounding area.
This article is intended to provide general information about oral health topics. It should not be used to diagnose or treat any medical condition or as a substitute for the advice of a healthcare professional who is fully aware of and familiar with the specifics of your case. Always seek the advice of your dentist or other qualified healthcare provider with regard to any questions you may have relating to a medical condition or treatment.