Can Drinking Water Help Prevent Cavities in Kids?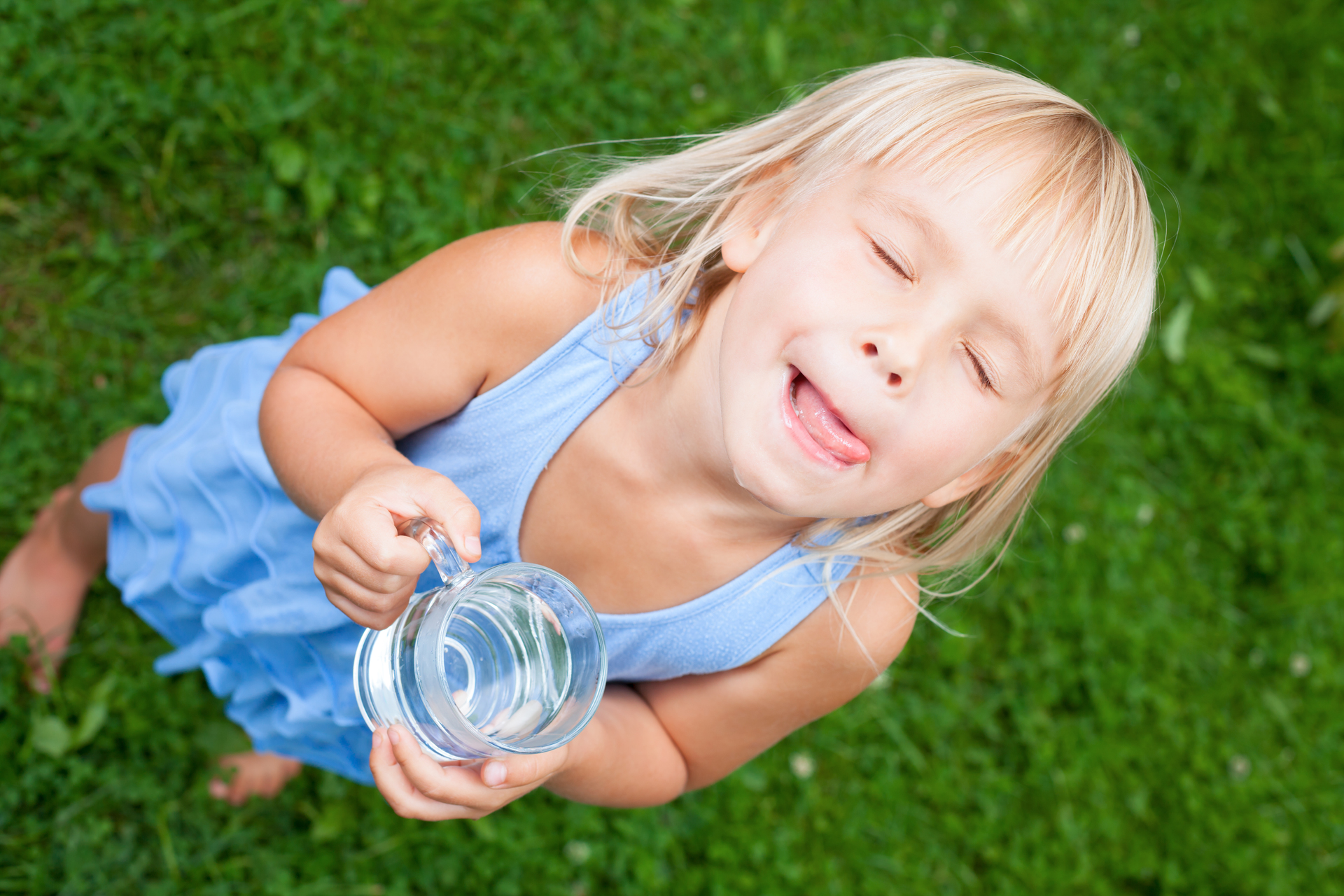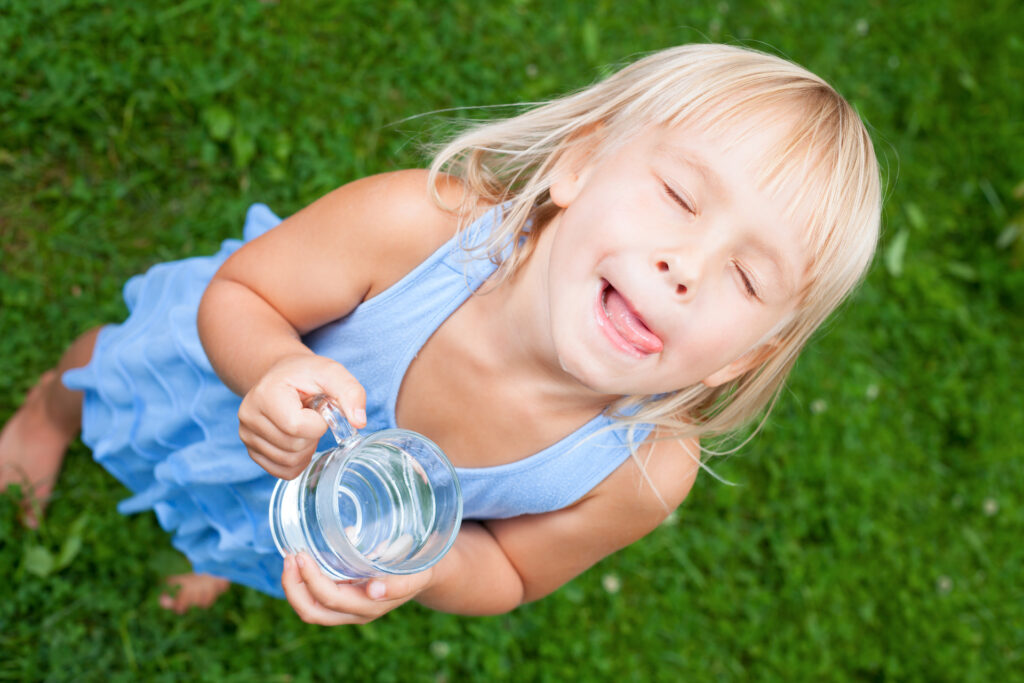 Did you know that something as simple as drinking plenty of water can actually help reduce your children's chances of getting cavities? In this article, we will discuss the four primary ways in which serving your children water can benefit their oral health:
Staying hydrated helps your child maintain a healthy level of saliva.
Saliva is one of your child's best defenses against cavities.
When children eat sugary or starchy foods, cavity-causing bacteria inside their mouths feed off the sugars in those foods and produce an acidic waste product. This acid harms children's teeth by causing the teeth to lose minerals, which can eventually lead to cavities. In addition to washing away food particles to deprive cavity-causing bacteria of their meals, children's saliva naturally helps their teeth regain those lost minerals.
When children are dehydrated, their mouths can become dry. Without sufficient amounts of saliva, it can be easier for foul-smelling bacteria to accumulate inside a child's mouth and harder for the child's body to repair any damage cavity-causing bacteria may have done. As a result, dry mouth can increase the likelihood of cavities in children and can also lead to bad breath in kids.
How much water do children need to stay well-hydrated? It varies by age. For children five and under, the American Academy of Pediatrics recommends the following:


The American Academy of Pediatrics advises that children between the ages of 1 and 3 need approximately 4 total cups of beverages per day in order to stay well hydrated; children between the ages of 4 and 8 need approximately 5 cups of beverages; and children over 8 need approximately 7 to 8 cups a day. Note that these are general guidelines only; the exact amount of water (or other beverages) needed to stay well hydrated depends on the individual, weather conditions, activity levels, etc. The American Academy of Pediatrics provides a helpful list of things to look for to determine whether your child is getting enough fluids.
Water helps clean your child's teeth by washing away food particles.
Although it's certainly no substitute for brushing or flossing your child's teeth, drinking plenty of water is a great way to help clean out his or her mouth and wash away some of the food particles that may be lingering after a meal. The less time those food particles spend in your child's mouth, the less time cavity-causing bacteria have to feed on them.
Unlike most beverages, water does not cause cavities in children.
Of course, plain water is not the only beverage that can help your child stay hydrated and rinse away food particles. It is, however, one of very few beverages that doesn't lead to cavities in children. Flavored milks, sports drinks, sodas, juices – even juices that contain 100% juice – all contain sugars that can lead to cavities in children. In fact, with limited exceptions, both the American Academy of Pediatric Dentistry and the American Academy of Pediatrics recommend that most children between the ages of one and five drink only plain water and plain cow's milk.
Fluoridated water can make your child's teeth more resistant to tooth decay.
Fluoride is a mineral that is naturally present in the soil, water and air. Many years ago, researchers discovered that fluoride is an incredibly valuable tool for preventing cavities in children and adults. Fluoride both (1) helps your body repair damage done by cavity-causing bacteria and (2) makes teeth stronger so that it is harder for bacteria to damage your teeth again in the future.
Because of these benefits, fluoride is often added to tap water in the United States. Different bodies of water naturally contain different concentrations of fluoride, and often the concentration is too low to prevent cavities. In the U.S., when community drinking water naturally contains a concentration of fluoride that is lower than the U.S. Public Health Service's recommended water fluoridation level of 0.7mg/L, many communities add fluoride to increase the concentration up to the recommended level.
Community water fluoridation has had a remarkable impact on the oral health of Americans. In fact, the CDC considers it one of the ten greatest public health achievements of the 20th Century.
But even today, not all water contains enough fluoride to help prevent cavities in children. For example, bottled water may or may not contain fluoride. According to the CDC, bottled water that is labeled as de-ionized, demineralized, distilled or purified contains no more than trace amounts of fluoride, unless fluoride is listed as an added ingredient. If bottled water does not contain one of these labels, you should contact the manufacturer for information about the water's fluoride content.
Additionally, some communities choose not to add fluoride to their drinking water. If you live in Texas (or any other participating state), you can find information about the fluoride levels in your tap water online through the CDC's My Water's Fluoride Program. Otherwise, you can contact your water utility provider to find out the fluoride concentration in your tap water.
You should also note that some water naturally contains levels of fluoride that are much higher than the U.S. Public Health Service's recommended water fluoridation level. As with most good things, it is possible to have too much fluoride. If your tap water contains a fluoride concentration that is higher than 2.0mg/L, you may want to consider giving your child water from a different source in order to prevent fluorosis, a tooth enamel defect that results from young children ingesting excessive amounts of fluoride. For more information on this, see our article on fluorosis.
Board-Certified Pediatric Dentistry in Hurst, Texas
While drinking plenty of water is an easy and excellent way to reduce the risk of cavities in children, keep in mind that it is not a substitute for proper brushing and flossing or for regular dental checkups and cleanings. To schedule a dental checkup for your child, call Hurst Pediatric Dentistry at (817) 510-6400 or request an appointment online.
Hurst Pediatric Dentistry is located in Hurst, Texas. Our dentist, Dr. Lin, is a board-certified pediatric dentist who provides dental exams and cleanings for children from Hurst, Euless, Bedford, North Richland Hills, Keller, Colleyville, Southlake, Westlake, Arlington, Irving and the surrounding area.
This article is intended to provide general information about oral health topics. It should not be used to diagnose or treat any medical condition or as a substitute for the advice of a healthcare professional who is fully aware of and familiar with the specifics of your case. Always seek the advice of your dentist or other qualified healthcare provider with regard to any questions you may have relating to a medical condition or treatment.