Is Dental Sedation Safe for My Child?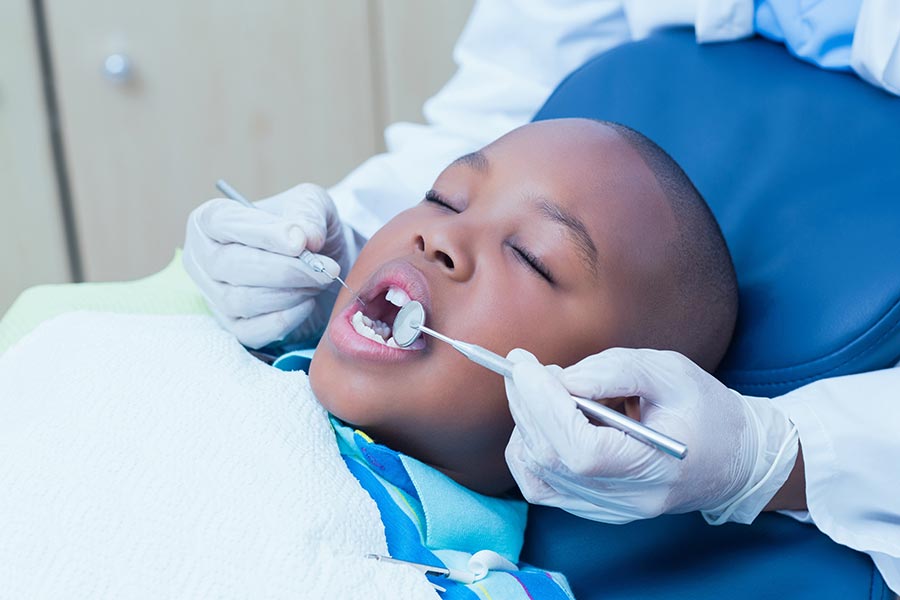 At Hurst Pediatric Dentistry, we understand that for many children the thought of going to the dentist may produce feelings of anxiety or fear. We go to great lengths to ensure that our patients have a positive experience at our office. Dr. Lin has been specially trained in pediatric behavior guidance techniques to help anxious children relax during dental treatments. Sometimes, however, children are unable to tolerate necessary dental work with behavior guidance alone, which is why we offer various dental sedation options to help anxious patients relax.
Is Dental Sedation Safe for Children?
Both the American Academy of Pediatric Dentistry and the American Academy of Pediatrics recognize that, when used appropriately, pediatric dental sedation can be an invaluable tool for helping children tolerate necessary dental procedures. That said, parents should understand that, like all medicines, pediatric dental sedation does involve certain risks and specific patient outcomes can never be guaranteed.
At Hurst Pediatric Dentistry, we take your child's safety very seriously. As a board-certified pediatric dentist, Dr. Lin is specially trained in pediatric sedation dentistry. He will work with you to select the most appropriate form of sedation for your child, coordinating with your child's pediatrician or other healthcare providers as needed.
If oral conscious sedation or general anesthesia is selected, your child's vital signs – including blood oxygen level, blood pressure, and heart rate – will be monitored during the procedure. General anesthesia will always be administered by a trained anesthesiologist. You can rest assured that we will do everything possible to ensure that your child has a safe and positive dental visit.
Types of Dental Sedation for Kids
Nitrous oxide. Also known as laughing gas, nitrous oxide is a very safe sedative that allows mildly anxious children to relax while remaining awake and able to communicate with the dentist. Laughing gas is one of the safest options in pediatric sedation dentistry. It begins working almost immediately, and the effects wear off soon after the procedure. If necessary, it can be combined with other sedative agents.
Oral conscious sedation. Oral sedation can be a safe and effective option for patients who exhibit higher levels of anxiety or have difficulty wearing the laughing gas mask and who require only minimal amounts of dental work. Most children relax and may even drift off into a light sleep, but are easily awakened. However, not all children are good candidates for oral sedation. If your child is unable to tolerate necessary dental work using nitrous oxide alone, we will work with you and your child to determine whether oral conscious sedation is an appropriate alternative.
General Anesthesia. In some cases, including where a child is highly anxious or where extensive dental treatment is required, general anesthesia may be the best choice to ensure a safe and comfortable experience for your child. Your child will remain asleep during the procedure and will not feel any pain or remember the treatment. If this option is recommended for your child, we will discuss the procedure and the risks involved and explain why we are recommending this form of sedation.
Pediatric Sedation Dentistry in Hurst, TX
Contact Hurst Pediatric Dentistry to learn more about sedation dentistry and how it can help your child relax during dental treatments. At Hurst Pediatric Dentistry, we are committed to providing a safe and comfortable experience for all our patients. Call our office at (817) 510-6400 to book an appointment.
Hurst Pediatric Dentistry is located in Hurst, Texas, and provides dental treatments to children from Hurst, Euless, Bedford, North Richland Hills, Colleyville, Keller, Watauga, Haltom City, Arlington and the surrounding areas.
This article is intended to provide general information about oral health topics. It should not be used to diagnose or treat any medical condition or as a substitute for the advice of a healthcare professional who is fully aware of and familiar with the specifics of your case. Always seek the advice of your dentist or other qualified healthcare provider with regard to any questions you may have relating to a medical condition or treatment.